About Wibs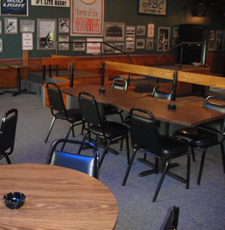 An unusual bar for a small college town
First opened in 1989 as a full service restaurant that also served beer; it was soon clear that the college student gatherings would be the driving force behind this small town tavern. Not long after that first day, the full menu was dropped for pizza and other bar munchies; and modifications began toward creating a big city bar experience in Shippensburg, PA. With the addition of a pool table room and a full sand volleyball court, Wibs was ready to begin its' undisputed reign as the foremost leader in party-ology for Shippensburg University students. For the past 26 years, we have offered the best weekend entertainment we can find while serving reasonably priced drinks and food to all our customers. Come see for yourself why Wibs was recently rated the Number 9 college bar in the country by Bro Bible. Welcome to Wibs!
---
Good To Know
Per the laws of the great state of Pennsylvania, no one under the age of 21 is allowed inside. You'll need a Valid photo ID to come thru the door. No exceptions. No excuses. No bullshit. We card everyone. And we keep digital proof of the ID transaction.
Feel free to talk to each other.